Eat The Whistle PPC is available!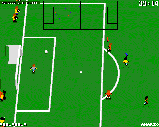 Eat The Whistle is a new revolutionary soccer game developed by Hurricane Studios with a lot of features never seen in other Amiga soccer games. It's the first soccer game that works in multitasking and supports all the most advanced hardware available for Amiga. It works happily with quicker processors, with graphic boards and also with audio boards. It's compatible with CyberGraphX, Picasso96, and AHI for sound card support (AHI driver is available from the 1.2 version). It runs without problem also in a resizable Workbench window (also on AGA).
From 2.0 ETW is available in three versions classic, chunky and PowerPC. The first two versions are for 68k processors, the second one uses the CPU to do the blitting and is faster than the classic version with fast 68k processor (040/40 or 060), the PowerPC version (that use the Phase6 PowerUP software) is faster than the classic version in 320x256 also if you play in 640x400!
Requirements:

Any Amiga with OS 3.0+ and at least 1MB of chip ram or a gfxboard.
Suggested: 2MB of chip, 1MB of fastram, HD and AGA or GfxBoard.
The more the better...

Here are some of the features:

System friendly. Run on any amiga, also on clones, in multitasking.
World cup, leagues, cups with real teams (with slightly modified names).
Spoken comment (in the CD-ROM version).
Works with gfx boards and also with AHI + sound cards.
Time synchronized, faster CPU get faster framerate but not faster gameplay.
Already implemented 0, 1 & 2 players mode, not yet ready but planned 3 & 4 players mode (via 4 joy adaptors or keyboard).
Control via Joystick, CD32 compatible joypad (on joypad the control is more advanced and very similar to the Playstation's ISSPro control), two buttons joystick or keyboard.
Very intuitive control method with acceleration/deceleration.
More than 550 frames of animations for the players, 300 for the goalkeeper, 100 for the refree and a lot of other graphics.
30 different fields, including muddy, frozen and wet (actually only one included in the demo version to contain the archive size).
Fouls, corners, throw-in with an intuitive control system.
Role playing. (You can play a match as the whole team or only as a player).
About every thing in the game is configurable via intuitive menus.
Game Tactics and tactic editor.
Heading and other special shots with intuitive controls.
Team players (with individual stats) and team editor.
Arcade-like actions for "arcade mode" (powerups, bonuses... something like speedball II).
Replays (with load/save option).

Eat The Whistle it's probably the most configurable soccer game written for Amiga, it has tons of options, here are some examples (click here for a picture that shows one of the configuration menus):

you can play it with Joystick, two-button joystick, joypad or keyboard (two different, and configurable keyboard control methods), the joypad control (with a CD32 compatible joypad) is very similar to the Playstation's ISSPro one.
There are 8 different pitch types and 7 different pitch conditions, the pitch condition modify the aspect of the field! You can play on a wet field or on a snow covered one, in this case the players will wear gloves !
You can choose the daytime of the match, if the match is played in the evening the players have 4 shadows.
You can choose screenmode (example hires picture), radar size, if you want to see always the match result or the active player name...
You can play friendly matches, cups, leagues, world cups (picture) , training, penalties, free kicks.
There is a great Arcade Mode with two different pitches that seem an arena and with 11 custom "arcade teams" (picture)(one is the secret one) and you can do a challenge similar to a beat'em'up with the gameplay that is mix between speedball and a soccer game! (picture)
There are a LOT of cheat modes!

Here are the Eat The Whistle related files you can find in my page, if you have something intresting (teams, translations, tactics...) that you want to share send them to me!
If you have problems to download these files you can find most of these files in any Aminet mirror!